Are you and your dog inseparable? If so, have I got the weekend getaway for you!
Let me start this off by saying that this is probably my favorite blog project to work on thus far. Jacob, Spike and I were invited by The Westin Whistler to come up for Woof Weekend. You read that right - a weekend fully devoted to all things awesome and dog-friendly set against the backdrop of the beautiful Whistler-Blackcomb mountain resort. I've never been up for the fall and had no idea how much action was going on with mountain biking and ATVing! Not to mention the breathtaking colors of the leaves as they change over for the season. Alas, I digress...
The drive from Seattle was smooth as can be, and after a quick stop in Vancouver for late lunch, we arrived at The Westin Whistler just as evening hit. Right away, Spike and his humans were treated with the utmost care and attention. As we got our Platinum Passes for the weekend, Spike was greeted with a Woof Weekend gift bag full of yummy treats. Gourmet treats made by The Westin chefs awaited Spike in our incredible suite, alongside bags of Kasiks and FirstMate dry food, a Heavenly Dog Bed, and some cheese for the humans. A casual meet & greet capped our first night, where Spike got to meet a lot of the faces and smells of the homies he'd be surrounded by all weekend.
Oh Spike, you ain't seen nothin' yet!
Saturday was jam-packed with adventure and activities. Mom snuck in a workout in the hotel's beautiful fitness/pool/spa facilities and an early morning run to the Whistler Olympic Medal Plaza - probably the only time I'd ever get the Olympic rings all to myself these days! The Westin provided a generous continental breakfast each day of Woof Weekend, and all that coffee came in super clutch for the long day ahead of us. Spike's day started with a beginner's agility workshop. I can't deny that I giggled a little bit imagining Spike jumping through hoops and leaping over fences, but K9Incredibles made sure every dog came out of the workshop with the body & spatial awareness they need to be the next big agility superstar. We totally bonded with Lisa Sun & her team/family - which includes a couple of bulldog puppies!
Right after Spike's agility workshop, we embarked on an adventure hike with the Alpine Dogs team. The 'hike' was a scenic jaunt through Whistler Village up to Lost Lake - and we couldn't have had a more perfect sunny, fall Saturday for it! Spike was a champ and made the 2+ miles up to the lake, but just to be safe, we caught a shuttle back to Rebagliati Park for the group picnic lunch. Spike was spent after lunch, so after a nap, I was able to get him back down for his last workshop of the day - beginner's Nosework training with Joyce Tatterall of NoPawblems K9 Camp. Spike did an awesome job for his first time practicing nosework, and mom learned a ton about how canine scent abilities work.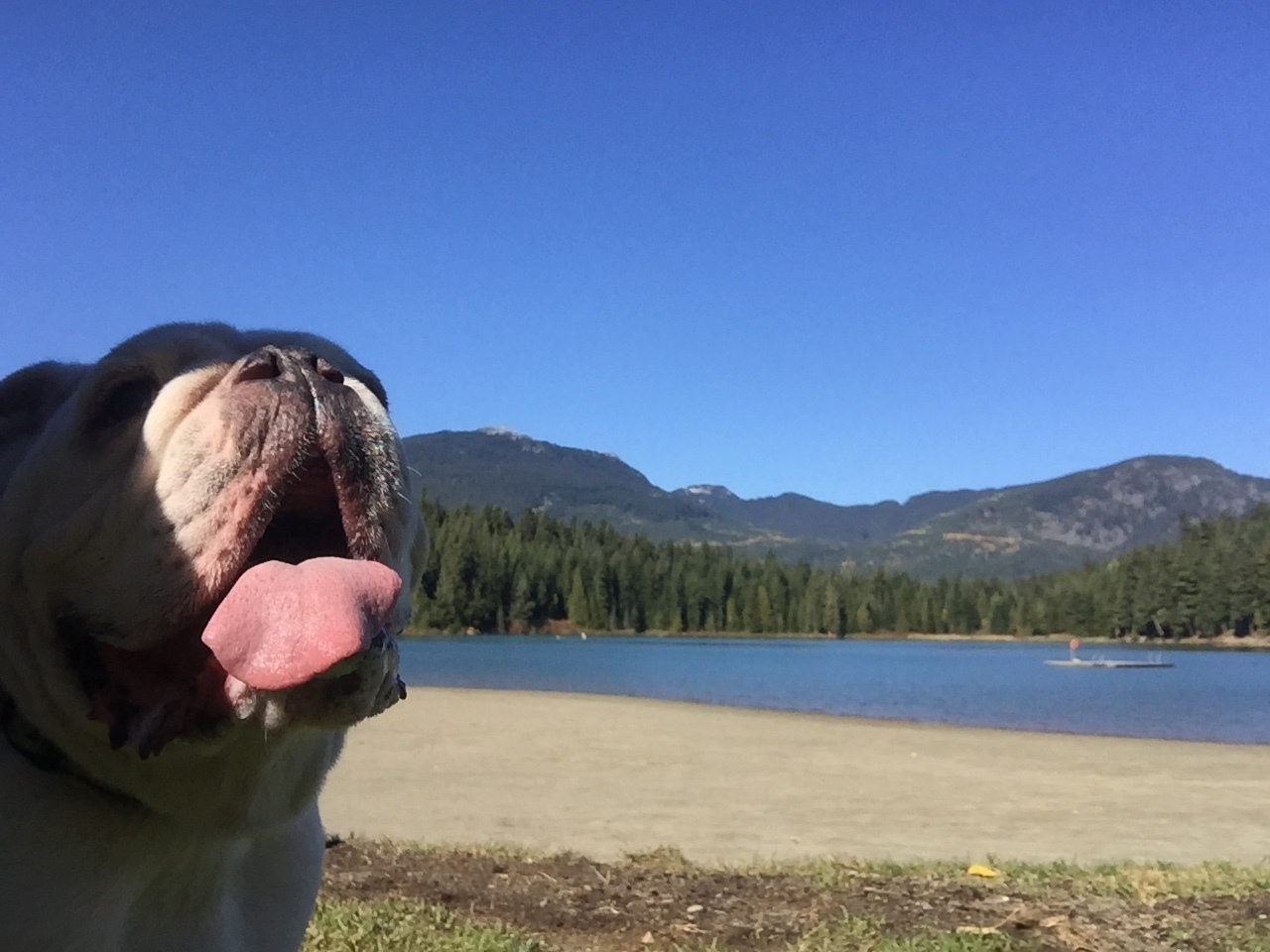 On Saturday night, Spike, mom and dad got all dressed up for the K9 Wine & Dine Gala benefiting WAG (Whistler Animals Galore, the local shelter.) If you've never experienced a gala dinner with dogs everywhere, I highly recommend coming to the WAG dinner next year. It was so fun! There was a three-course menu for the humans, and dogs got their own three courses as well. Jacob went home with a ton of winning bids from the silent auction, and we got our turn in the doggy photo booth too. I loved getting to know our table mates & new friends, and meeting Henry, one of the many dogs rescued by WAG. It was such a fun night for a great cause.
Needless to say, by Sunday we were totally wiped! Somehow, we made it back downstairs for Christmas in October furry family photos, a walk through the Pet Marketplace vendor tables, the K9Incredibles Agility Show and a final stroll through Whistler Village before heading home to Seattle. Spike slept for the entire day after we got home, and I'm tired reliving the weekend as I write this!
We are so grateful to The Westin Whistler and everyone involved in Woof Weekend for their hospitality and hard work in making the entire weekend so memorable and fun. Our nosework and agility workshops left us with a lot of new games and activities to play together at home. We've already done some nosework training since we've been back! We can't wait for Woof Weekend next year.